Omaha Beach Retires To Spendthrift Farm
Author: Don Mckee
Published: Wednesday January 29, 2020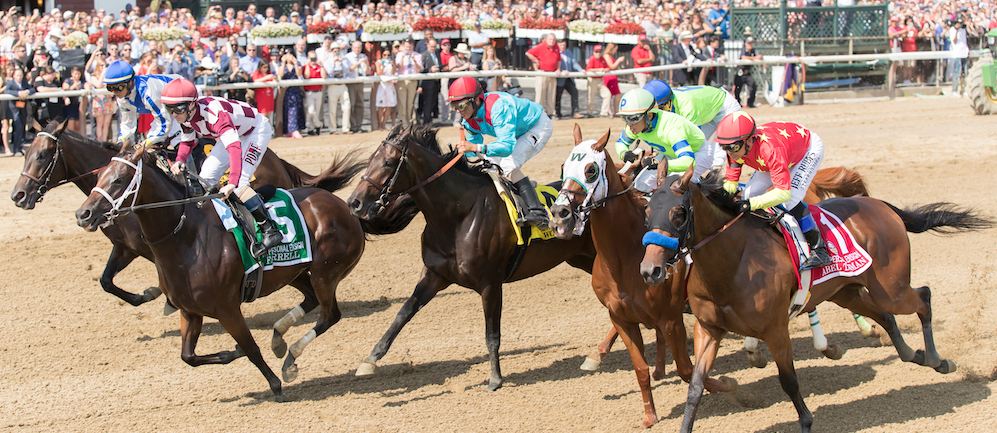 Multiple Grade 1 winner Omaha Beach retired from racing on Tuesday at Spendthrift Farm. A group of breeders and fans were present as the impressive horse closed out his racing career.
Omaha Beach has made his first public appearance since that day. Walking and posing outside a quarantine barn around the farm's stallion complex, the 4-year-old son of War Front adapted to his new surroundings. His behavior is representative of a smooth transition.
The Pegasus World Cup
With the introduction of the Pegasus World Cup Invitational Stakes (G1) at Gulfstream Park in January of 2017, a race with a $12 million purse, Omaha Beach followed the same path as a few other horses. The Pegasus causes top colts to stay in training due to the high purse, and it requires negotiating a compressed transition period in the breeding season.
Before the introduction of the Pegasus, entering-year stallions usually had a couple of months to transition.
California Chrome, the former sire of Taylor Made Stallions, was the first to undertake this compressed schedule in 2017. He completed it successfully. Three Chimneys Farm's Gun Runner and Lane End's City of Light did the same in 2018 and 2019, respectively.
Omaha Beach, along with the other three stallions, has a high level of intelligence and adaptability.
"He has a great mind and great attitude," said Ned Toffey, general manager for Spendthrift. "It is hard to believe this horse, after shipping across the country, rolled in here at 7 o'clock last night, we pulled his bell boots off, threw a blanket on him, he sniffed around a little bit, and then started eating hay. He has settled in as well as you could ask any horse to do."

Complications From Ankle Injury
However, his transition had some complications due to a right rear ankle injury that caused him to be scratched from the Pegasus World Cup, which ran on Jan. 25. He suffered from swelling of the ankle, and radiographs found early indications of a cannon bone fracture.
"Because of his injury, we're waiting on the vet's reports to see how long he might need to be restricted and when we can start increasing the exercise," Toffey said. "Right now, the ankle is tight, and he's walking sound."
According to Toffey, the ankle injury did not greatly affect Omaha Beach's let-down routine. Spendthrift uses portable panels to create restricted space in a paddock. Omaha Beach will get used to his surroundings by being handwalked and spending time in his pen.
Panels will continuously be added with time, and the size of the round pen will be gradually increased until the horse has free access within a paddock.
"With any new horse, you watch them like a hawk when they come in," Toffey said. "You start off with a plan, but everything in the horse business is all day-to-day. We go to great lengths to make sure they settle in."
Omaha Beach will dictate the pace with the transition.
"We are cautiously optimistic he'll be on schedule, or close to it, for the start of breeding season. We'll make sure the timing is right and not rush him. If we have to wait a bit longer, then we'll wait," he said.
Spendthrift Farm's breeding shed will be open on Feb. 10. Omaha Beach is standing for $45,000, and he already has his book full for the upcoming breeding season. He is set to cover over 200 mares.