Pink Lloyd Makes History With Third Straight Win at Vigil Stakes
Author: Don Mckee
Published: Wednesday July 17, 2019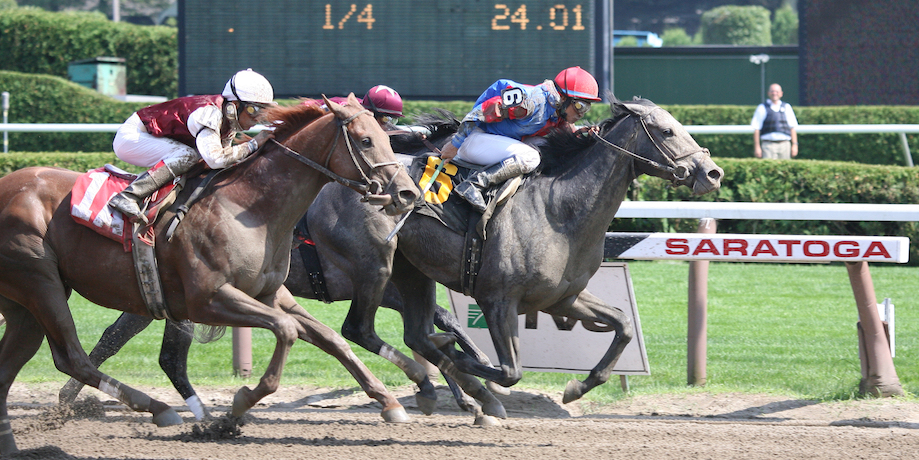 Entourage Stable's Pink Lloyd made history as he was back in the Woodbine winner's circle on Sunday after winning the $124,000 Vigil Stakes (G3). It was the third year in a row that he won the race, and he did it while carrying the highest weight of his career at 127 pounds on the 6-furlong fast synthetic track.
Pink Lloyd is considered by many to be Canada's best racing horse. The champion male sprinter proved himself yet again with his victory on Sunday, July 14.
At the start of the race, Pink Lloyd broke from the inside post as the 3/5 favorite under Eurico Da Silva. He soon found himself in third place, while Sable Island and Wyatt's Town were fighting for the front during the opening fractions.
At the top of the stretch, Pink Lloyd moved out three-wide to challenge the lead. He continued to move forward until he passed the front-runners and expanded his lead to cross the finish 4 1/2 lengths ahead at 1:08.68. He was just 0.63 seconds off the track record that he set himself in the 2018 Jacques Cartier Stakes.
The rest of the field followed with Sable Island a nose ahead of Wyatt's Town for a photo finish. Behind them were Marten Lake, Eskiminzin, Dixie's Gamble, and Circle of Friends to finish the order respectively.
Rider Eurico Da Silva spoke on the horse's performance after the race.
"I was just sitting behind the speed and, you know, he was running so different today, like way more relaxed than usual," Da Silva said. "And when I asked him, you know, I've never felt an explosion (like that). I've been riding for 30 years. This horse just explodes turning home. When I ask him, he responds so fast. He's an unbelievable horse. I'm so grateful to be a part of this team. I have no words to say how much I appreciate to ride for Bob and the tremendous work he does with this horse. There are a lot of details every single day."
Canada's Greatest Sprinter
Pink Lloyd, trained by Robert Tiller and son of Old Forester, is in his 7-year-old season. This year, he is 3-for-3 in stakes action after this race and the prior Jacques Cartier (G3) and the Greenwood Stakes at Woodbine.
Pink Lloyd now has a record at 24-19-1-1 with his earnings sitting at $1.47 million. These include 16 stakes and an 8-for-8 Canada's Horse of the Year campaign in 2017.
Trainer Robert Tiller has high praises for the impressive horse that keeps on winning.
"He's the greatest sprinter there ever was in Canada," Tiller said. "I've been doing this for 50 years, I've been around here for a little bit. He might just win Horse of the Year again this year, it's very possible. And you know, he's never been better. I don't want to shoot off my mouth because as soon as you open your mouth, you end up eating your words, but he's never been better. Eurico rode him terrifically today. He's a monster. He's more relaxed than he's ever been. We've made some adjustments with him this year and it's working so far. I thank the good Lord. He's a wonderful animal and I will never forget him."
Pink Lloyd paid $3.40 to win and $2.50 place while Sable Island paid $5.60 to place as he finished ahead of Wyatt's Town.
Live racing will continue at Woodbine on Wednesday evening with post time at 6:45 p.m.