Report On Mongolian Groom Released
Author: Clint Goodman
Published: Friday January 17, 2020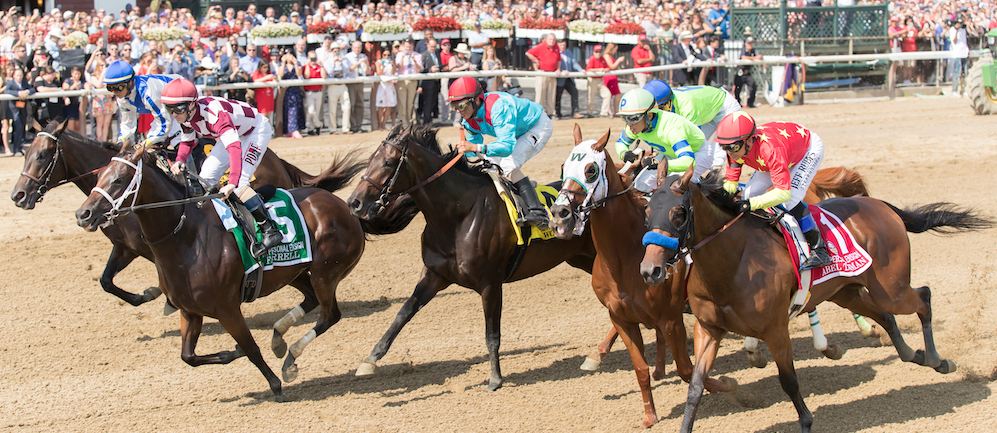 In the 2019 Longines Breeders' Cup Classic (G1), Mongolian Groom suffered a fatal injury. Prior to his start in the Nov. 2 race at Santa Anita Park, he had lesions in both hind distal cannon bones.
The news comes after a report was commissioned by Breeders' Cup to get more details about the fatality.
The 25-page report was compiled by Dr. Larry Brmlage, a renowned orthopedic surgeon at Rood & Riddle Equine Hospital. He received support from outside counsel Stoll Keenon Ogden.
They received materials such as veterinary and training records, the necropsy report, Mongolian Groom's medication history, and relevant videos of the horse running prior to the Classic. A pre-existing condition of bilateral lameness was found.
Only Fatality In Event's 14 Races
Mongolian Groom, the 4-year-old son of Hightail, was the only fatality from 229 horses that participated in the event's 14 races at Santa Anita.
"It is hard to fault a process that had a 99.6 percent accuracy rate, but there were opportunities to remove Mongolian Groom from competition that were missed due to time constraints or process deficiencies that could be made more prominent," Bramlage wrote.
Santa Anita's main track underwent major renovations after 30 horses suffered fatalities during the Southern California track's winter/spring meet. According to Bramlage, it was unlikely the surface played a role in what happened to Mongolian Groom.
He was the 37th fatality from both racing and training at Santa Anita between Dec. 30, 2018, to the Nov. 2 Breeders' Cup card.

Pre-existing Condition
Bramlage said that the pre-existing condition was the main cause of the events that led to the fatality. The gelding had a fine stress fracture in the bottom of his left hind distal cannon bone propagated through the bone. This caused a complete fracture while the horse was racing in the Classic.
"This injury is a series of events initiated by a stress fracture within the cannon bone so small it has no outward physical signs, pain on palpation, heat, or swelling," Bramlage wrote. "Mongolian Groom was harboring a fine stress fracture in the bottom of the (left hind) distal cannon bone. In fact, he had small stress fractures in both hind cannon bones.
"These fractures were in the depths of the bone, yet as of the start of the race had not caused any inflammation in the fetlock joint even though they were just millimeters away from the joint surface. A little more than one mile into the race, the left hind fracture propagated, resulting in the chain of events, like dominoes falling, that created the fatal injury."
The report contained testimony from the California Horse Racing Board veterinary team, the Breeders' Cup veterinary team, and the Santa Anita veterinary team. There was also Mongolian Groom's connections, including trainer Enebish Ganbat, groom Edgar Pardilla, exercise rider Jesse Cardenas, and jockey Abel Cedillo.
There were also interviews from important individuals with Santa Anita owner The Stronach Group, Breeders' Cup, and the CHRB.

"Watch List" and Exams
Mongolian Groom was one of 73 horses put on a "watch list." This list contained horses that needed extra scrutiny by examining veterinarians. He was one of 24 horses that was on the list, and he was noted for possible lameness in his left hind on Oct. 31 during on-track exams by Breeders' Cup examining veterinarians.
Bramlage also added, "His motion exams identified no lameness at the pre-race barn exams in any of his races, just stiffness in motion.
The truth is, he had a bilateral lameness and remained symmetrical in both hind limbs in the barn exams before the 2019 championships.
"During the 2019 championships, Mongolian Groom was formally observed by five different veterinarians on five different days on the track, and at the barn by three different veterinarians on six different days pre-race. … Six observations in the barn by three different observers noted that Mongolian Groom was 'stiff' or 'choppy' behind, but symmetrical in both hind.
"One barn exam prior to the 2019 championships questioned his right hind fetlock, but it was negative to joint flexion."
As to whether or not there was some type of cover-up, "There is no evidence that the horse's injury was ignored or covered up," said Bramlage. "Mongolian Groom's form had been improving all year long. The horse had won a grade 1 race in his last start. The horse's connections believed the horse was no different in soundness than he had been for months.
"Mongolian Groom's groom, Edgar Pardilla, had cared for him for nine months and felt the horse had never shown any pain, heat, or swelling in his limbs at any point.
"The exercise rider, Jesse Cardenas, and the jockey, Abel Cedillo both felt the horse had always taken a little longer than normal to warm up, but he always ran well and worked well in spite of that fact, as his form had shown.
"The trainer, Enebish Ganbat, had never had a fatality in his 10 years of training. He stated he felt no pressure to run in the Breeders' Cup from the owner or the Breeders' Cup officials."