Second of July Upsets Futurity Field
Author: Don Mckee
Published: Monday October 12, 2020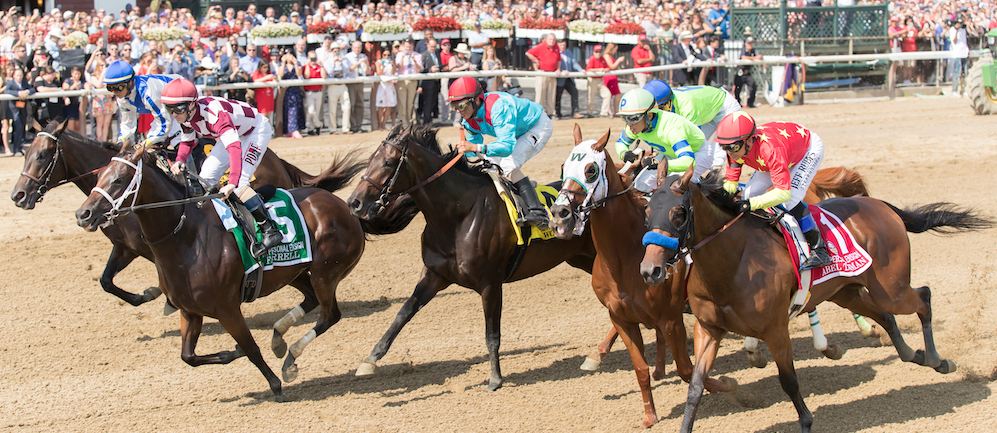 Bryan Hilliard's homebred Second of July upset the field after moving up from almost last, managing to defeat favorite After Five in the $100,000 Futurity Stakes (G3T) Sunday at Belmont Park. With the victory, he scored a spot in the Breeders' Cup Juvenile Turf Sprint (G2t) on Nov. 6 at Keeneland.
Second of July now has two wins from two starts following the six-furlong Futurity. The 2-year-old Jack Milton gelding also won back on Sept. 20, going the same distance on Belmont's inner turf. In that race, he came in at 68-1 odds.
Second of July is trained by Phil Gleaves.
"I knew he was very fit and sharp and doing good, so I knew he would run his race, but I just wasn't sure if it was going to be good enough, but it turned out to be," Gleaves said.

The Running
He came into the Futurity at 15-1, but he was still the longest shot among the field of seven runners. He broke sixth under rider Dylan Davis, brushing with After Five at the start.
After Five sat in fifth and Second of July in sixth. Momos set fractions of :22.10 and 45:45 through a half-mile.
At the quarter pole, Second of July was in fifth and three lengths behind Momos. After Five fanned six wide and fell back to seventh.
Second of July was able to take the lead in the deep stretch after running past Momos, and After Five made a late run but couldn't get past the leader. Second of July finished half a length ahead.
"It's very exciting. Thanks to Phil Gleaves and Bryan Hilliard for keeping me on him," Davis said. "He ran a great race. He was pretty keen first time out. I wanted to break well since I knew there was some speed in here. He put me in a good position, next to last, but it was OK.
"Once we got into the turn, he wanted to get more. I just got him in a good position and got him into the clear, and he knew what to do. He was very professional today, and I'm very happy with that."
The final time on the firm turf was 1:09.33.
"He broke well for me, but I just could not get any early foot on him," Davis added. "Once we got to the turn, he wanted to get a little aggressive, and I allowed him to move up a little bit. From then on, I was just trying to find a clear spot to get going on him, and once I did, he excelled."
After Five finished a half-length ahead of Momos, who took third, and County Final was fourth.
"The horse ran a great race," After Five's trainer Wesley Ward said." It's just unfortunate he had traffic trouble, and that's what happens in racing. He lost, but he's a very nice horse."

Breeders' Cup
According to Gleaves, Second of July will go to the Breeders' Cup as long as he stays in good order.
"I was happy to see (Davis) had so much horse coming around the turn, and at that point, I knew we were going to run well. He just wore them down," Gleaves said. "Dylan does such a great job. There would be no reason to change things at the Breeders' Cup."
"This will be my first Breeders' Cup mount," Davis said. "I'm super excited, and I know I'm ready for this. I've been waiting for a long time."
The Futurity was the closing race of the 2020 Breeders' Cup Challenge series. The World Championships will take place on Nov. 6-7.