The Fasig-Tipton July Sale
Author: Don Mckee
Published: Monday July 08, 2019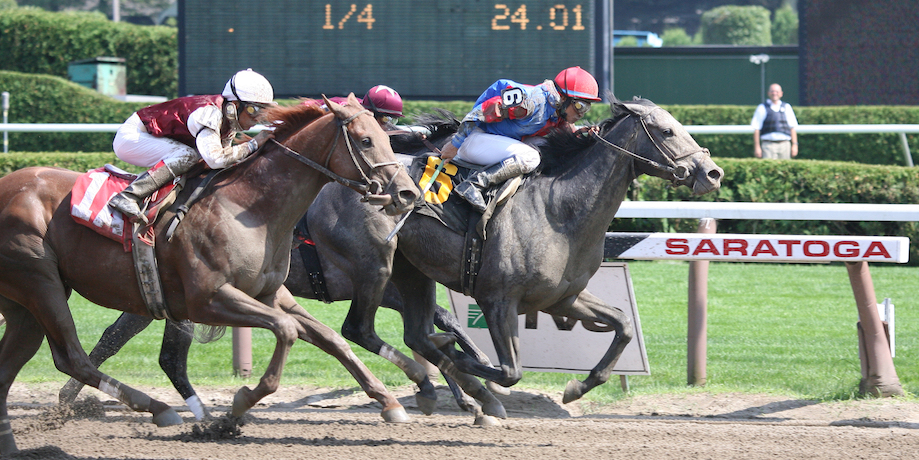 The Fasig-Tipton Kentucky summer yearling sale kicks off this week in what is normally a collection of yearlings with promising characteristics. On July 9, these horses will be up for sale at Fasig-Tipton's Newtown Paddocks headquarters. There is a lot of excitement surrounding the sale since graduates from the past two have been steadily impressing many in stakes company recently.
Maryanorginger, who was purchased for $190,000 by Gold Square last July, won the debut at Astoria Stakes at Belmont Park. Kimari, purchased for $152,000 by Eaton Bloodstock, won her debut at Keeneland.
Last year, 196 yearlings were sold for a total of $19,762,500. This number was up $3.6 million in gross from the year prior. Outside of the number sold and the earnings, the buyback rate was at 31 percent. The average price sat at $100,829, up 8 percent from the year prior, and the medium was up 7 percent at $75,000.
Looking back to the 2017 sale, the numbers and graduates were impressive then as well. One of the graduates was Chelsea Cloisters, who Group 3 placed in France and finished second in the 2018 Inaugural Breeders' Cup Juvenile Turf Sprint. Joevia, who sold for $50,000 at the July sale won the Long Branch Stakes and came in third at the Belmont Stakes.
Focusing on this year's outing, Fasig-Tipton has cataloged around 200 horses for its seventh annual sale. The original number was at 168 until recent additions. The bidding will begin at 4pm.
Fasig-Tipton President Boyd Browning spoke about the event. "We have a really distinct catalog and it grows every year as buyers and sellers continue to gain confidence…it has increased in popularity. There is something for everybody in the catalog: colts, a wide variety of options, regardless of where you're racing and it should attract a broad range of buyers to the sales grounds."
Some of the prominent sires at the sale include Into Mischief, Distorted Humor, Malibu Moon, Uncle Mo, Awesome Again, Curlin, Ghostzapper, and Looking at Lucky.
The graduates of the sale have had 69 stakes wins, 6,200 starts, and earnings that number over $35 million.
The goal of the sale, according to Fasig-Tipton President Boyd Browning, is to provide a competitive market for people to bid and purchase horses. He wants to create a very efficient process for both the buyers and the sellers. The sale normally has a low buyback rate as the sellers are dedicated to finding homes. While they might not have some of the high-status horses like before, they are expecting to sell many six-figure racehorses at this year's sale.
Starting last year, there have been new additions to the system for selling under ELiTE Sales. In 2017, they sold the second-highest-priced horse for $585,000. Now, horses that are put up for sale have to undergo radiograph exams before they ever arrive at Fasig-Tipton. Any horses that have results that could be damaging are withdrawn.
According to Bradley Weisbord, partner at ELiTE Sales, "Our draft is shrinking…We do presale veterinary X-rays at their respective barns. We found it's really beneficial to our owners. We don't want to interrupt their racing campaigns if they were to have a chip in an ankle that lots of racehorses have but would be severely discounted at auction. We're selling some of the biggest owners in the game, and there is no sense for them getting less than market-plus money."
With an established record of producing high-quality racehorses at the sale, we could see some superstars that come out of Fasig-Tipton this year.