Tiz the Law Pointed Toward Belmont Stakes
Author: Don Mckee
Published: Tuesday May 19, 2020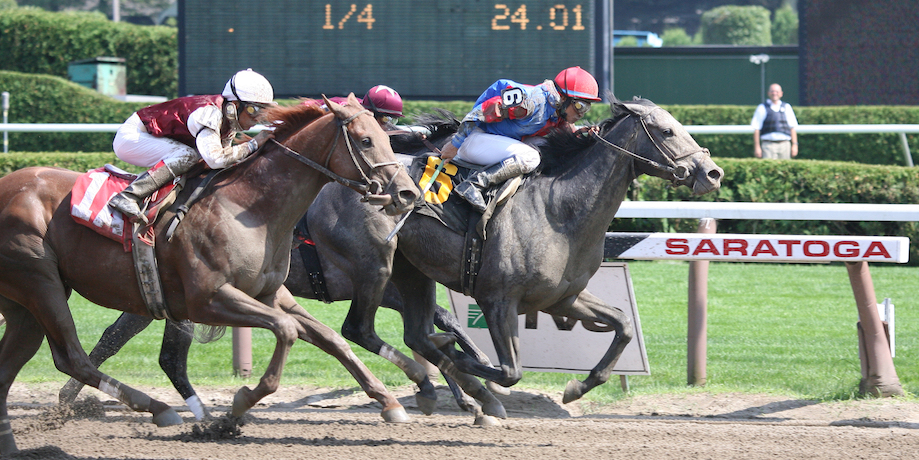 Sackatoga Stable's Tiz the Law now has a target since New York approved spectatorless racing beginning on June 1. He turned in another breeze at Palm Meadows Training Center on May 18, and his connections are pointing him toward a major race.
According to Sackatoga managing partner Jack Knowlton on May 18, the 3-year-old Constitution colt will target the Belmont Stakes (G1). The race was originally set to run June 6 at Belmont Park, but no new date has been announced by the New York Racing Association.

Race Delays and Spectatorless Racing
Racing was stopped on March 19 at NYRA's Aqueduct Racetrack due to the COVID-19 pandemic. Belmont Park's opener was also delayed, which was originally scheduled for April 24.
On May 16, New York Gov. Andrew Cuomo announced that racetracks can resume racing without spectators on June 1. NYRA will announce start dates, stakes schedules, and condition books in the near future.
"He will ship up to Belmont in early June, and we'll have him up there in time so he can get at least a work over the track up there," said Knowlton. "It is his home track, he won the Champagne (G1) there, so it's not any question that he can handle Belmont. We don't have to deal with that. We'll just be able to walk him over from Barclay's barn to be in that race."

Tiz the Law Prepares
On May 18, Tiz the Law breezed a half-mile in :50 1/5 at Palm Meadows, which came after a five-furlong move in 1:00 1/5 on May 9.
"He's been doing very well. Last week he had a bullet work going five furlongs. We've kind of been alternating fast works and slow works, so we're just trying to keep him healthy and happy. Now we finally got a road map," Knowlton said. "If everything goes according to our plan, he'll go to the Belmont, and what I'm hearing is (the race could be rescheduled for) the 20th or the 27th of June.
"Hopefully, when NYRA comes out with its schedule, which I'm told is going to probably within the next couple days—a stakes schedule for Belmont and hopefully a stakes schedule for Saratoga—they would move the Travers (G1) to maybe the first of August. That would be our second stop and then the (Kentucky) Derby (G1), of course.
"We found out Saturday the Preakness (G1) is going to be Oct. 3. As long as he's doing what he's been doing and stays healthy and sound, those would be the four races we'd be shooting for. Then hopefully, he'd be good enough to take us to the Breeders' Cup."
The Kentucky Derby Presented by Woodford Reserve was postponed from May 2 to Sept. 5. On May 16, Maryland Gov. Larry Hogan announced that the Preakness will run on Oct. 3 at Pimlico Race Course.
According to Breeders' Cup president and CEO Drew Fleming, they are "fully committed to conducting the World Championships at Keeneland on Nov. 6 and 7."
Tiz the Law has two starts and two wins at Gulfstream Park this year, coming from the Curlin Florida Derby (G1) and Holy Bull Stakes (G3). He is holding the second spot on the Road to the Kentucky Derby leaderboard with 122 points.
Gulfstream shut its doors to spectators during the March 28 Florida Derby.
"Not being able to watch the Florida Derby in person was a big disappointment, but we're in times where there's a lot of disappointments and when you look at the whole scheme of things that certainly wasn't the worst thing in the world that could happen," said Knowlton.
Knowlton is now hoping to watch Tiz the Law run once again in a big race.